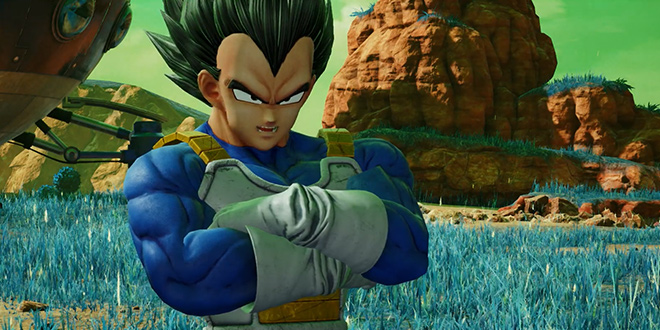 Am Freitag erscheint das neue Crossover-Game »Jump Force« für die PlayStation 4, Xbox One und den PC. Passend dazu hat der Publisher Bandai Namco nun einen Launch-Trailer mit deutschen Untertiteln veröffentlicht, den ihr euch weiter unten anschauen könnt.
In »Jump Force« werden einige der beliebtesten »Jump«-Charaktere gegeneinander in spannenden Kämpfen an verschiedenen Orten, wie in New York, in Hong Kong oder am Matterhorn, antreten.
Alle Charaktere im Überblick:
»Dragon Ball«: Son-Goku, Vegeta, Freezer, Cell, Piccolo, Trunks
»One Piece«: Ruffy, Zorro, Blackbeard, Sanji, Sabo, Boa Hancock
»Naruto«: Naruto, Sasuke, Boruto, Gaara, Kaguya, Kakashi
»Bleach«: Ichigo, Aizen, Rukia, Renji Abarai
»Yu-Gi-Oh!«: Yugi
»Saint Seiya«: Seiya, Shiryu
»Hunter X Hunter«: Gon, Killua, Kurapika, Hisoka
»Yu Yu Hakusho«: Yusuke, Toguro
»City Hunter«: Ryo
»Fist of the North Star«: Kenshiro
»Rurouni Kenshin«: Himura, Shishio
»Black Clover«: Asta
»My Hero Academia«: Izuku Midoriya
»JoJo's Bizarre Adventure«: Jotaro Kujo, Dio Brando
»Dragon Quest«: Dai
Original-Charaktere von Akira Toriyama: Galena, Glover, Kane, Navigator
Das Game erscheint am 15. Februar 2019 mit deutschen Untertiteln für die PlayStation 4, Xbox One und den PC.
»Jump Force« bei Amazon vorbestellen:
>> PlayStation 4
>> Xbox One
Launch-Trailer:

Quelle: gematsu.com, Bandai Namco Entertainment